Self Serve Dog Wash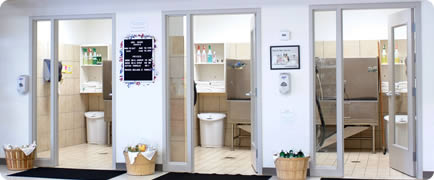 Our self serve dog washes have become a customer favorite. Now it's easy and even fun to get your pooch cleaned up. We supply everything you need. A raised wash tub to save your back, premium natural shampoo & conditioner, towels, high speed professional blow dryers. Best of all, we take care of the mess you used to leave in your bathroom!
We have 6 stores with dog wash rooms:
Northland Drive
Breton Village
Holland
Cascade
Lake Michigan Dr (Standale)
Grand Haven
No reservation needed. Just bring in your dirty dog!
Dogs under 50 lbs -- $10.99
Dogs 50 lbs and over $12.99
Join our "Frequent Bather" Program! Buy 10 self-serve dog washes and you'll get one FREE.
Dog Wash Video
Chow Hound Dog Wash Instructional Video
Instructional video on the convenience of using the dog wash bays at Chow Hound Pet Supplies stores in West Michigan.